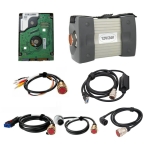 Description
1. Reading out and erasing trouble code; reading the real-time data of sensor and actuator; coding and programming.
2. Multi-Language Supported.
3. Supports 1989~up to now Car, Bus, Truck
4. Fit all computers.
5. All electric system Diagnostic
6. Support 21 Multi-Languages: English, Chinese, Czech, Danish, German, Greek, Spainsh, Finnish, French, Hungarian, Italian, Japanese, Korean, Dutch, Polish, Portuguese, Romanian, Russian, Serbo, Slovak, Slovenian, Swedish, Turkish.
7. Functions:
(1). 1989~up to now Car, Bus, Truck, Sprint, Smart ;
(2). All electric system Diagnostic;(Do not include flash code)
reading trouble code
erasing trouble code
live-data
adaptation
component testing
maintenance
information consultation
component location diagram
wiring diagram
Supported Protocol
1. Support M-ercedes Ben-z Cars
A(176), A(169), A(168), B(246), B(245), CLC(117), C(204) C(203), C(202), 190(201), E(212), E(211), E(210), 124(124), S(222), S(221), S(220), S(140), S(126),
E(207), CLK(209), CLK(208), CLS(218), CLS(219), CL(216), CL(215), CL(140) SLK(172), SLK(171), SLK(170), SL(231), SL(230), SL(129), SL(107), SLS(197),
M(166), M(164), M(163), G(463), G(461), E(212), E(211), E(210), 124(124), S(222), S(221), S(220), S(140), CLK(209), CLK(208), CLS(218), CLS(219),
CL(216), CL(215), CL(140), SLK(172), SL(231), SL(230), SL(129), SL(107), SLS(197), M(166), M(164), M(163), G(460), GL(164), GLK(204), R(251)
2. Van support list:
MB 100(631), T1, SprinterIII, SprinterII, SprinterI, Sprinter900, Citan, Vito(639), Vito(638), V(638), Viano(639), T2, Vario, Vaneo(414)
3. Truck support list:
Actros963/4, Actros2,3, AtegoIII, AtegoII, AxorII, Eonic, Zetros, Actros, Atego Light, Atego Heavey, HPN M96, Atron, HPN M2000, SKL, FSK, Further model series
Unimogs support list:U20, UGN, UHN
Super sports cars support list:SLR(199)
4. Testable system:
ENGINE
AUTO-SPEED
AIRCONDITIONAL SYSTEM
SRS
ABS
ASR
MPL
G-M
BEN-Z ORIGINAL ANTI-THEFT
DASX SYSTEM
KEYZESS GO SYSTEM
OBD-II SYSTEM
5. MB Star C3 Pro For Ben-z Cars & Trucks Software includes:
(1). D-A-S: the automatically Diagnosis Assistance System ,Concise interface and straightforward operation with IBM high-quality computer can realize the
quick and accurate code reading and the whole car system testing
(2). W-I-S net: Workshop Information System Supply the whole view of the wiring diagram in a car,component location diagram and maintenance method. What you do is to enter the chassis number, and then you will get the manufacture data, engine configuration and the car model -all in detail.
(3). EPC.net : Electronic Parts Catalog
(4). ST Finder:Part location finder
(5). STAR UTILITIES : the movement management system and self-test
Specification:
Package Weight

| | |
| --- | --- |
| One Package Weight | 4.01kgs / 8.85lb |

| | |
| --- | --- |
| Carton Weight | 25.53kgs / 56.28lb |

| | |
| --- | --- |
| Carton Size | 52cm * 48cm * 42cm / 20.47inch * 18.9inch * 16.54inch |

Loading Container
20GP: 254 cartons * 6 pcs = 1524 pcs
40HQ: 590 cartons * 6 pcs = 3540 pcs
OEM are Welcome! we can print customised artwork and logo
More Pictures

Pack All Images and Download